A husband on Reddit did a wonderful thing to make her wife happy. A 24-year-old man recently took to Reddit and posted a note on how he wanted to "generate and hide" hundreds of dollars from his wife. What seemed like a shady title soon turned into THE. MOST. WHOLESOME. POST. ON. THE. INTERNET!
The reason why he needed to generate a huge amount of money and hide it from his wife was that he wanted to buy his 27-year-old wife a trampoline and give her a massive surprise.
He revealed how he is a student and earns a bare minimum from his internships. His wife, on the other hand, has a full-time job and earns way more than him.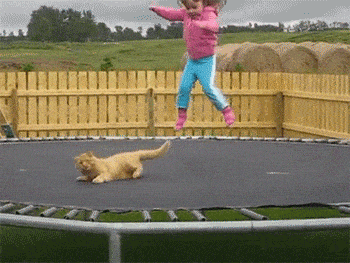 However, his wife is a die-hard lover of trampolines. Until the pandemic started, he used to take her to a "trampoline park" wherein she used to have a gala time.
But for the past few months, the park has been closed and she has been disappointed. She always wanted to buy a trampoline for herself but there wasn't ever the right time.
Now, the Husband on Reddit wants to surprise her with one. But he has two problems:
1) How can he earn such a huge amount of money within a short time and hide it from his wife?
2) How can he hide a huge trampoline from the sight of his wife?
"She wants and deserves a trampoline," he writes.
He goes on to add:
"I'm…kinda not super bright. I'm not a sharp idea generator, that's usually her thing. I'm like the Hulk. Lots of ability. Must be directed. Misses the details."
He stressed how the surprise should be a "fireworks" moment and the trampoline should just "appear" in the yard because she "deserves" it. He also said that he doesn't want to touch their savings.
In the end, he sums the entire thing up hilariously!
"Wife deserves trampoline. Wife loves trampolines. Thick-headed husband needs to get a trampoline in the dark of night to surprise her. Needs execution help and advice on how to be secretive."    
Read his post here:
Even though the post has now been deleted, screenshots of it were posted on Twitter. Have a look:
I [M24]need to generate and hide several hundred dollars from my wife [F27] [serious] pic.twitter.com/SM1zMMephp

— relationships.txt (@redditships) September 3, 2020
People on the internet cannot get over how wholesome the post is. Many said how the guy just raised the bar for men for women to date. Others called it the "purest things ever".
i would die for this man and his trampoline loving wife https://t.co/uzZepyMCOq

— nina zenik stan account (@isobelgeorgina) September 5, 2020
the energy of "my wife needs and deserves a trampoline" https://t.co/9PCSKgGfx9

— moony 🔞 friendly neighborhood trash monarch (@moonythejedi) September 4, 2020
This is so pure! Love it. https://t.co/ovrsQbUszT

— JadedB (@JadedB) September 4, 2020
this is the cutest thing ever I love dumb straight men who are full of love for their wives https://t.co/aBdjNPGUqZ

— ~we live in a police state~ (@fxck_marcus) September 4, 2020
This is as pure and wholesome as it gets. https://t.co/wBxtKl5kRT

— Elizabeth Bea – Anxiety ahoy! (@MugoiUsagi) September 4, 2020
This is really charming. I hope he managed to do this. ☺️ https://t.co/xVLgwHr1ey

— Dragon of Darkness 🏳️‍🌈 (@Ms_Anon_Ymous) September 5, 2020
The bar for men is low but it has just been raised slightly https://t.co/h3qn2Ubmd6

— Caroline Royce (@carolineroyce) September 3, 2020
This should be a movie. https://t.co/vRwrcCw8nJ

— Kirk J. Damato (@kirksays) September 3, 2020
This is the kind of love I want and DESERVE!! 🥺 https://t.co/TTmGiXJDkA

— Vanessa Bean (@LegitShitNessa) September 5, 2020
This man is a hero https://t.co/cj4GwoY3Dj

— ᴎƎS⅂ƎIᴎ W∀◖∀ (@AKFr0st) September 4, 2020
Does this guy have a GoFundMe or something because I am desperate for his wife to get her trampoline 🥺 https://t.co/7BeumqSicX

— 🏳️‍🌈Stinky Winky🏴‍☠️ (@KatWeegee) September 5, 2020
Look At Another Post.
In another post, the husband on Reddit, updated the people on the internet that the trampoline is indeed forthcoming! He thanked the donors who helped him financially to make his wish come true!